Current Issue
Vol. 6 No. 1 (2023): International Marine Energy Journal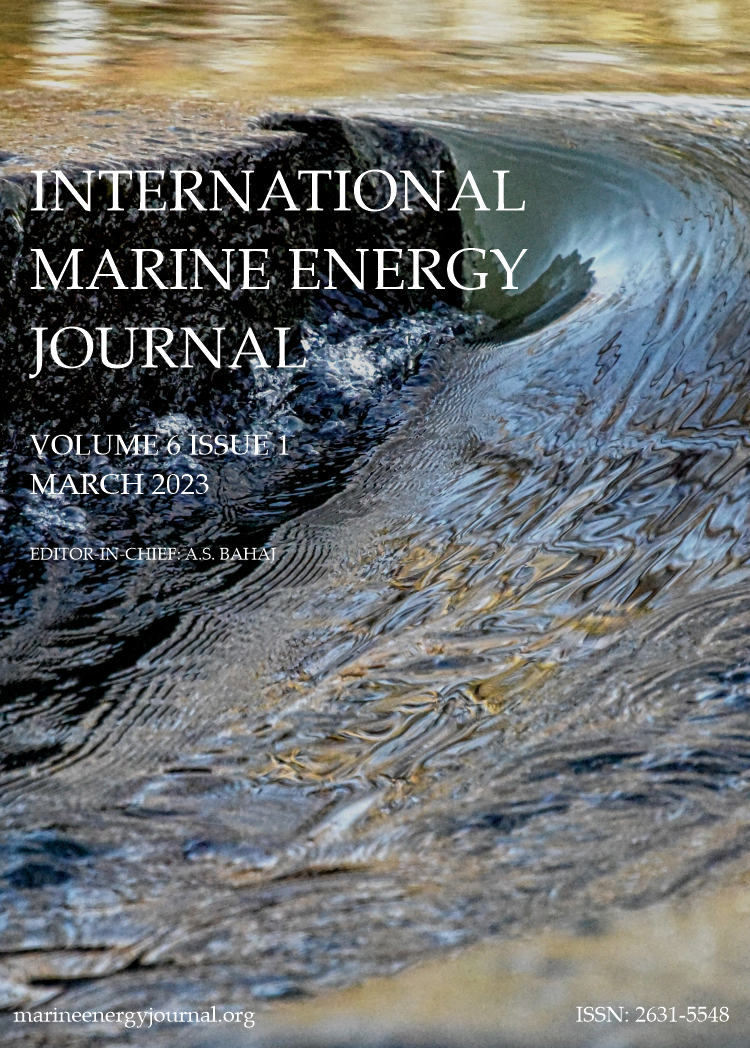 View All Issues
International Marine Energy Journal
ISSN: 2631-5548

IMEJ at a glance
A peer-reviewed open access journal for wave and tidal energy research.
Run for and by the marine renewable energy community since 2018.
IMEJ is indexed in Scopus, the Directory of Open Access Journals (DOAJ) and has been accepted for indexing within Engineering Village.
Quarterly issues, published online, including:

Research articles.
Authoritative, up-to-date review articles.
Special issues of conferences (e.g. EWTEC).

100% open access (CC-BY): authors keep copyright
Free to publish at least until 2022.
Then pay to publish. Fees will be substantially lower than the big publishers.
Each article single blind peer-reviewed by a minimum of two independent reviewers.
Manuscripts checked with anti-plagiarism software.
Journal issues archived at the British Library, so articles will remain accessible in perpetuity.
Each published article assigned a Digital Object Identifier (DOI), registered with CrossRef.
Aims
The International Marine Energy Journal (IMEJ) is a community enabled and led open access publication with the aim to publish original, high quality, state of the art articles exploiting the resources within the ocean and coastal waters, with particular emphasis on wave and tidal energy technologies (marine renewable energy) and their environmental and socio-economic aspects.
Scope
Submitted articles should cover fundamental and applied research, including: case studies; field deployment and testing; technical, economic and socio analysis; and laboratory based studies covering wave and tidal energy. The Journal topics follow those addressed under the European Wave and Tidal Energy Conference (EWTEC) and associated international conferences and meetings. These include:
Wave / tidal resource characterisation.
Wave / tidal device development, optimisation and testing.
Wave / tidal hydrodynamic modelling and structural mechanics.
Grid integration, PTO, control and electrical connections.
Station keeping, mooring, material, fatigue, loadings.
Arrays / farms.
Environmental impact assessment and appraisal.
Economic and social aspects.
Legislation, planning and codes, legal and political aspects of marine renewable energy.
In addition to submitted articles, special issues emanating from associated and relevant conferences and meetings will also be published in the journal. The IMEJ also welcomes review articles relevant to marine renewable energy topics as well as cross-cutting topics from other fields that are of relevance to wave and tidal energy.
There are currently NO Article Processing Charges (APC), submission charges any any other fees to be paid in order to publish an article in IMEJ; publication is free. More...